To the fine readers of e2theLos:
I am honored to have been invited to make a guest submission. I live in the Texas Hill Country, and have known Emily since the day she emerged from her beloved mama's loins. I am writing because I need your help.
I am in a 5-piece band. We are young (at heart). Our music can charitably
be described as "Americana". We do a lot of original tunes (many with a
south of the border theme/feel) and mix in cover tunes by Robert Earl Keen,
Pat Green, Ray Wylie Hubbard, etc. We need a name in a bad way. I'm not
even going to tell you our current name. It's not good.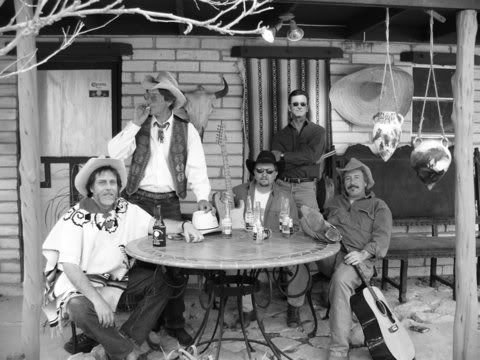 That is why we are having a contest. Emily claims to be the Queen of
Cleverness and that she has "surrounded herself with clever subjects". I
guess that means you, the readers of this fine literary masterpiece. Extra
points will be awarded for humor and/or clever wordplay. Examples
(admittedly bad ones) are:
Can't Playboys
Mad Cowboys
Trophy Husbands
Emily's Boy Toys
50 Cent Beer (this is my personal favorite) ("Tonight!! 50 Cent Beer!!")
Also, mixing Spanish and English will earn high honors. (Los Lonely Boys is
a fantastic name, for example). We can't go with all Spanish, however,
because we don't want people to think we are a conjunto band, you understan'
main?
Also, no curse words. I have to splain it to my kids. Thus, "Giant Fucking
Ballgown" is out.
Emily has a prize that will encourage all of you to enter and enter often:
For the males (and those females that are so inclined (Bonnie)),
Emily will pull up her skirt to give you a better look at her
"porcelain, no platinum" skin that could maybe make you fall in love with
her.
For the rest, all-you-can-eat mini-burgers.
Please leave contest submissions as a comment. Now get to work! -Steve Schulte