And It Don't Stop
last night bonnie & i saw
talib kweli
at the
9:30 club
and it rocked!!! well, it hipped and hopped, rather.
last time i tried to see him i went with these two adorable wankers who can charm the panties right off barbara bush, but they made me really, really late and i missed practically the whole show. so this time around i knew better. i went with bonnie. she was there on time, looking cute,
and
she made friends with the bartender. (which is probably why she ended up with 'i heart black cock' written on her arm and 'leroy' on her knuckles.)
last night we were "those people." no, not that kind. the kind of people who get the most amazing spot for a show without. even. trying. (see diagram a.)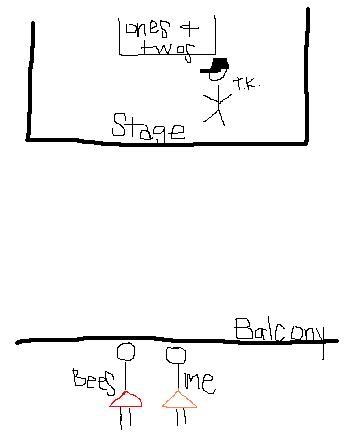 diagram a
i could see! everything! it couldn't have been better. talib had great energy, dj chapps spun wickedly, the sound was perfect. and the people around us even afforded my bedonkadonk a good three foot radius in which to bounce.
word.