There Are the Things You Do For Your Friends...
...and then there are
the things you do for your friends.
this post is all about the latter.
it started simple enough, or so i thought. rachel - aka THE BRIDE - and i - aka the bridesmaid, but really, let's call it what it really is, THE PAWN IN THE GAME OF BRIDESMAID DRESSES - had been discussing dress options. she was sending me out with a list of the dresses we had agreed
seemed
to be the best. (notice how i am stressing seemed? well, yeah. bridal salons are in some sort of alternate reality where good is bad. the evidence is below.)
armed with my dress list, a diet coke, a strapless bra, my highest heels, a camera, bonnie - aka THE AMUSED - and a higher than usual dose of self confidence, i set off to try on dresses.
"Hello and welcome to your handy pocket guide to bridesmaid dress shopping! Here you will find invaluable advice and insight, as well as some fun shopping tips! If there's anything I can do to make this a more pleasant experience, please help yourself to a drink. I suspect that will smooth over any possible turbulence. Beware the salesladies, though: I have no control in their ferocious realm.
Basic guidelines to bridesmaid dress shopping:
1. Always find the dress with the most - most ruffles, most bows, most tiers to the skirt. Those are the ingredients of the most beautiful dress.
2. Always hide your face from the salesperson - it will throw them off your trail. Instead, skip the underwear and moon them as frequently as possible.
3. Always take your best lesbian friend with you. You will need her help in the dressing room. "
internet, consider yourselves warned.
EXHIBIT A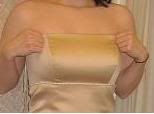 i call this one "holding it up." NONE of these dresses fit correctly. and no one who worked there was willing to help me. i can't tell if it was because they read the email above or because of, well, see exhibit b.
EXHIBIT B

i mean, we are nothing if not classy bitches.
EXHIBIT C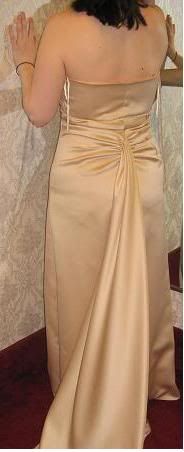 HORSE BUTT. bonnie got a real kick out of this one. she kept grabbing all that fabric in the back and saying, 'look! i have a tail - just like a horse!' horsey was the most deceiving of all the dresses. it had been my favorite in the photos. but, now i say neigh.
EXHIBIT D
this is where the whole ordeal just took a turn for the worse. i loathed this dress from the moment i saw it in the photos. and when the sales ladies said,
"oh, this is one of my favorites! everyone loves this dress!'
, i just about gagged.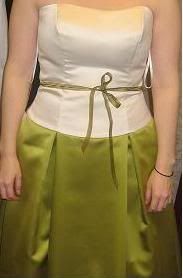 i did, in fact, look as bad in real life as i do in this photo. two words: preppy linebacker.
EXHIBIT E
as if the OUTSIDE of the dress weren't bad enough, the underlayers bugged the fucking shit out of me. lime green satin + box pleats + a bow (are you kidding me?!) + itchy crinoline = one grumpy los who won't let go of her vodka tonic. is that what you want walking down the aisle? i didn't think so...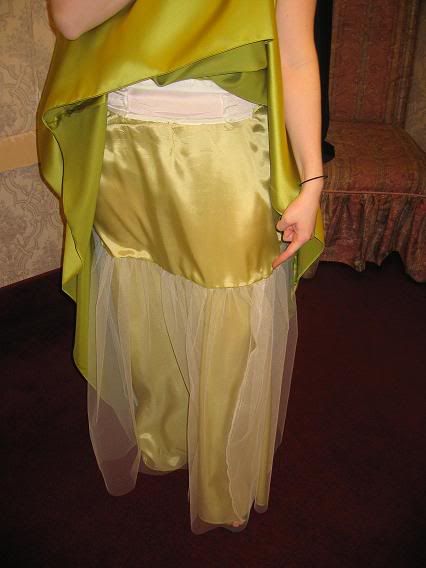 people, i know. i can feel your shudders from here.